FACS vs. FDC - Which One Should You Choose?
FACS is Flyingvoice Auto-Configuration System, and FDC is Flyingvoice Device Config. Both of them can help you to manage and configure Flyingvoice IP phones quickly and conveniently. But which one should you choose to reach your business goals? Follow us to find out the answer.
Application Scenarios:
FACS is suitable for SMBs and SMEs as there is no need to configure and install it. If you want to use the cloud to work remotely from anywhere, FACS should be your preferred choice.
FDC is suitable for companies that need to manage and configure IP phones in the local network. If there is an IT department in your company to maintain devices, FDC is an ideal choice.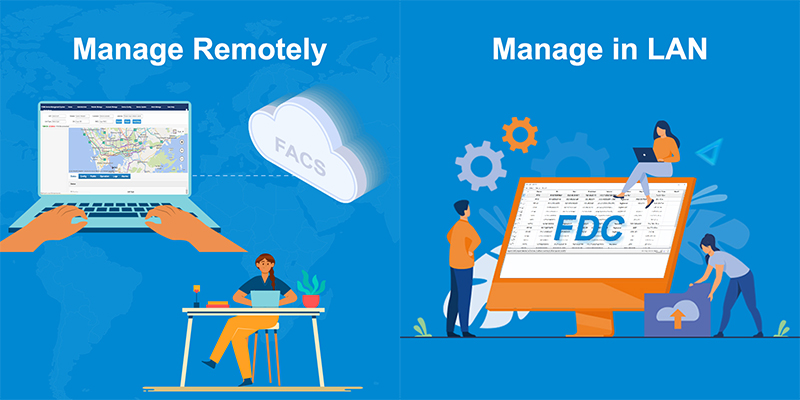 What are the the Differences Between FACS and FDC?
| | |
| --- | --- |
| FACS: | FDC: |
| ● Cloud-based System | ● Desktop Software (available for Windows 7 and above) |
| ● Remote Management | ● Local Management |
| ● Manual Registration (can be registered in batches) | ● Automatic Devices Scanning |
| ● Location Management | ● Upload Phonebook |
| ● Multi-level Management | |
What are the Common Features of FACS and FDC?
● Centralized Management
● Device Status Monitoring
● Batch Configuration
● Firmware Upgrade
● Device Reset

Conclusion:
Both FACS and FDC are useful tools with their own strengths. The answer to which is better really come down to the application scenarios. If you need a cloud management system to work remotely, go for FACS. If you want to manage your Flyingvoice IP phones in LAN, go for FDC.
Still not sure which one to choose? Reach out to us here at sales@flyingvoice.com.