Announcing the Launch of Flyingvoice P1X Series IP Phones
Shenzhen, China – October 26th, 2022 - Flyingvoice, a leading supplier of communication terminal devices and VoIP one-stop solutions, announced today the release of the company's P1X series IP phones. The series, which includes the P10/P10P and P11/P11P, is available globally for channel distribution and sales on Oct 26.
We brought the P1X series IP phones with a clean design and simple taste to small business users. Embedded with practical features such as the LCD screen with an adjustable backlight, 6-way audio conferencing, integrated POE, unified firmware and wall mountable, the P1X series IP phone can bring excellent voice communication solutions to users, ensuring that this essential IP phone will be your faithful, long-serving companion.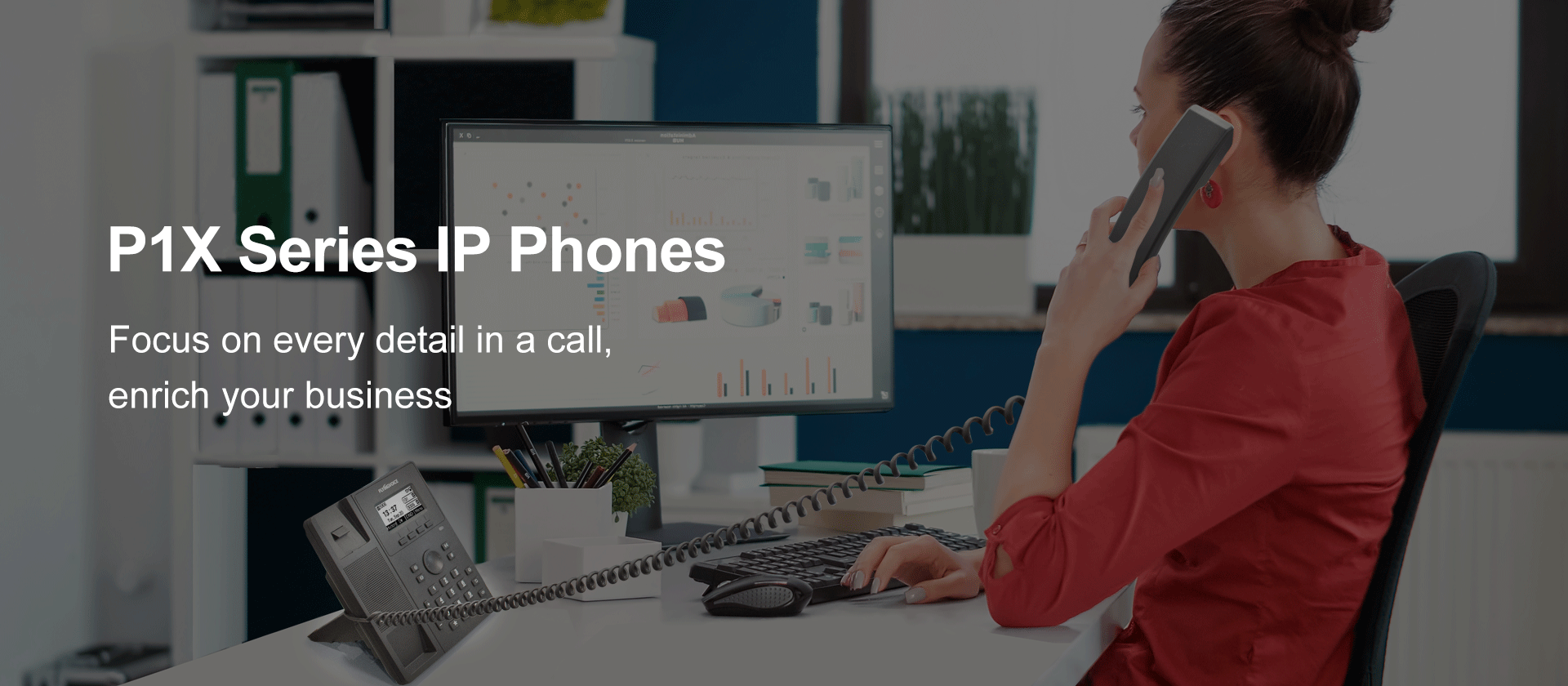 Additional Convenience and Flexibility
P1X series IP phones are focused on ergonomic details such as a new stand for easy installation with 60 and 45 angles on a desk and a 15-angle on the wall, an adjustable backlight LCD screen for a visual comfortable effect, which enables an easier and more friendly installation, operation and viewing experience for users. Furthermore, its screen can dim to dark, giving you a good sleep without any distraction from light at night.
Efficient Voice Communication
By supporting 6-way audio conferencing as well as HD voice technologies such as wideband codec G.722, opus and Acoustic Echo Cancelling (AEC), Flyingvoice P1X Series IP phones not only deliver HD audio quality but also guarantee an easy collaboration experience.
Effortless Configuration and Upgrade
The Flyingvoice PIX series IP phones support auto-provisioning and effortless mass deployment with Flyingvoice's free Redirection and Provisioning Service (FRPS) and Flyingvoice Auto-Configuration System (FACS). Furthermore, the P1X series features unified firmware and an auto-provisioning template that applies to all phone models, saving even more time and IT costs for businesses.
About Flyingvoice
Flyingvoice is a leading supplier of communication terminal devices and VoIP one-stop solutions, providing VoIP phones, ATAs, Gateways and Routers for business and home. We are aiming to empower small, medium and micro enterprises, solving the problem of "easy to buy but difficult to use" in network and communication, and are committed to providing wireless IP office solutions with integrated voice and data for SMEs. For additional information, please visit www.flyingvoice.com, and follow Flyingvoice on LinkedIn or Facebook.
---
If you have any interest or questions, please contact our sales team (sales@flyingvoice.com), thanks.