P11/P11P
Color Screen Entry-level IP Phone
This easy-to-use color screen IP phone can help you improve work efficiency and ensure high-quality voice communication. Equipped with a 2.4-inch 320*240px color display with an adjustable backlight, it provides users with high-resolution graphics and a colorful experience. The P11/P11P supports 2 SIP accounts, integrated 100M dual Ethernet ports, and PoE (P11P only) for easy network connection. And it supports HD voice technologies including wideband codec G.722 and opus for high-quality calls. In addition, it is easy to set up at 60 and 45 angles on a desk or 15-angle mount on the wall, meeting different application scenarios.
Concise Interface Design, Convenient to View
The P11/P11P IP phone adopts a 2.4" 320*240px color display with a 7-adjustable brightness level on the backlight, bringing users a comfortable and colorful visual experience. In addition, its screen can dim to dark, giving you a good sleep without any distraction from light at night.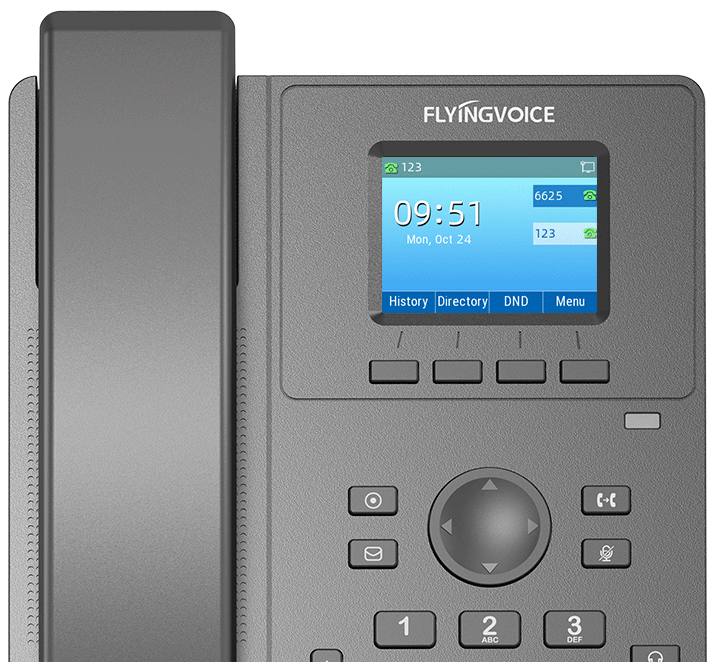 Supports 6-way Audio Conferencing, Better Collaboration
The P11/P11P supports 6-way audio conferencing to allow you to talk to five other people in a conference call while keeping the meeting running smoothly, making your communication easier.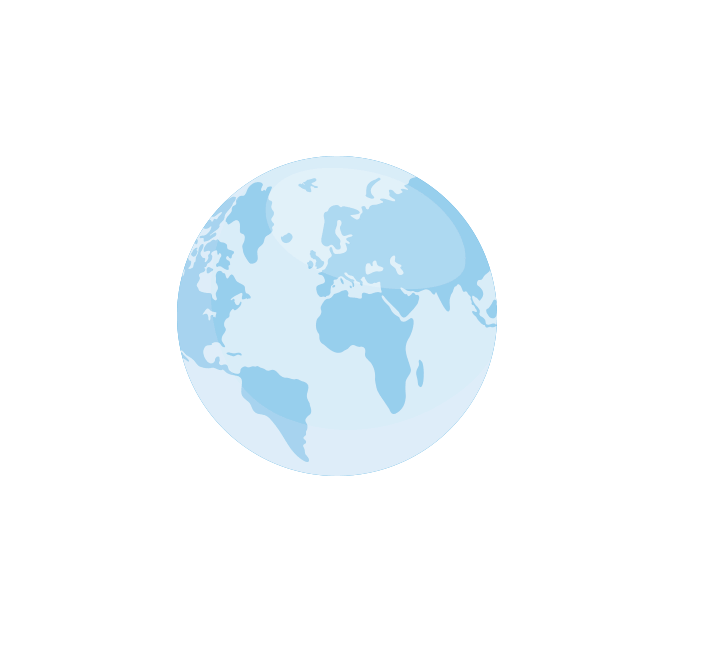 HD Voice Quality, Efficient Communication
The HD voice technologies including wideband codec G.722, opus and Acoustic Echo Cancelling (AEC) on this phone deliver high-quality voice communication for the handset and speakerphone even in very noisy conditions.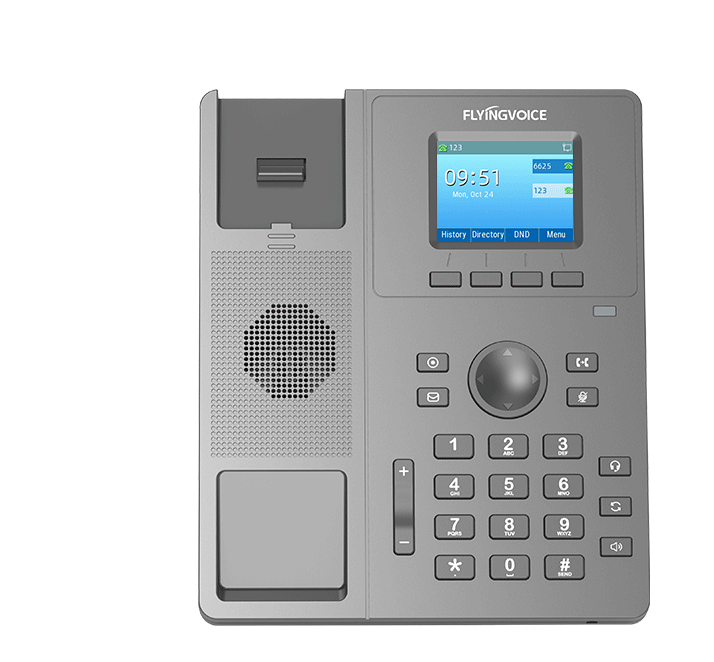 Online management Platforms, Easy Configuration
The P11/11P installed centralized firmware supports auto-provisioning and effortless mass deployment with Flyingvoice's free Redirection and Provisioning Service (FRPS) and Flyingvoice Auto-Configuration System (FACS), saving on your operation and maintenance time as much as possible.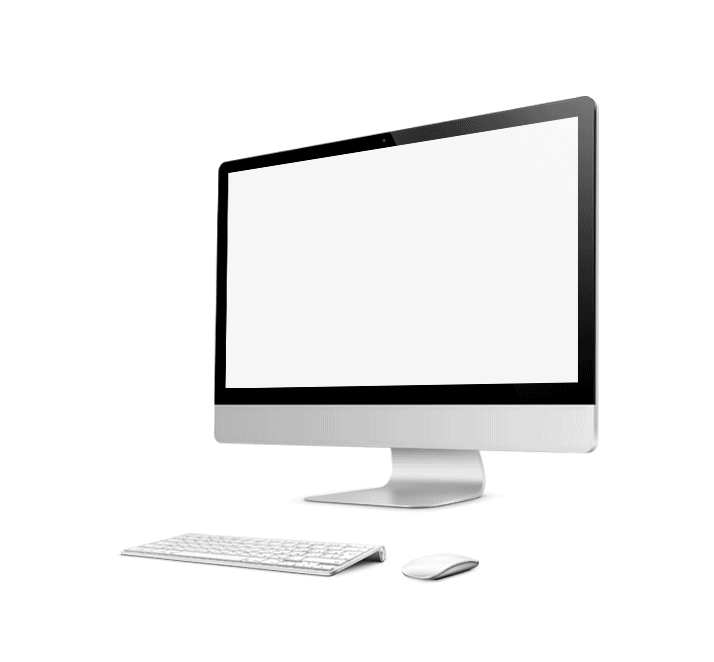 Wall Mountable, Flexible Installation
By focusing on ergonomic details, the P11/P11P is easy to set up on a desk and mount on the wall, meeting your various demands for a neat environment. And the P11P integrated PoE delivers both power and data across a single cable, which reduces cabling needs and simplifies installation.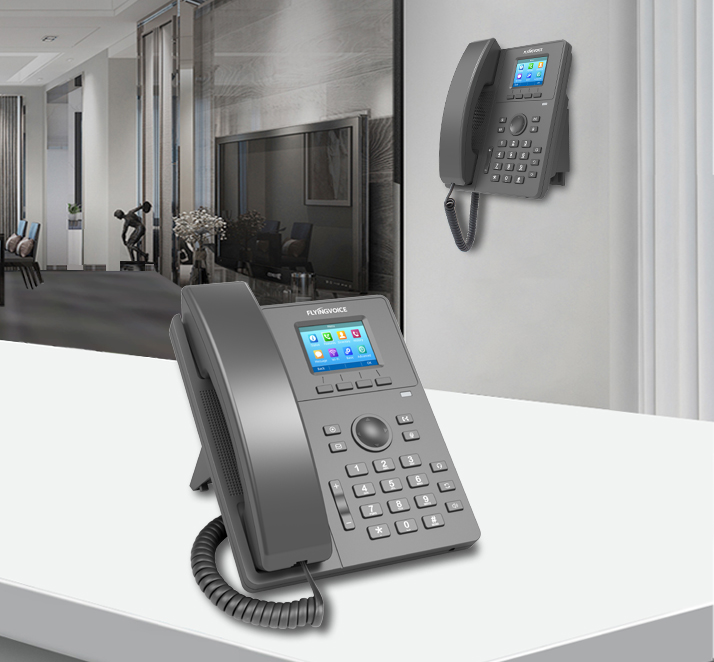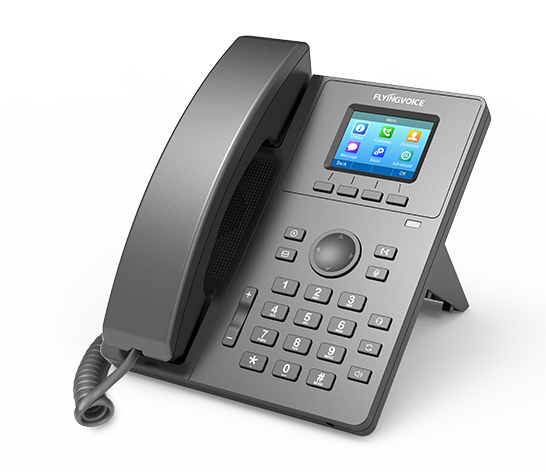 2.4" 320*240px color display with an adjustable backlight

2 SIP accounts

2 x 10/100Mbps Ethernet ports

Integrated PoE (P11P only)

HD voice, 6-way audio conferencing

Wall mountable

Stand with 2 adjustable angles

Local phonebook up to 2000 entries
LCD
Resoulution
LCD backlight
Touch Panel
SIP Lines
PoE
GigE
Wall Mount
Foot Stand
USB 2.0
Ethernet Port
Handset Port (RJ9)
Headset Port (RJ9)
Earphone (3.5")
External AC Power Adapter(optional)
Line Keys
DSS/BLF Keys
6-Way Conference
HD Voice
Wideband Codec
Narrowband Codec
Phonebook
Operation System
Built-in WiFi
Built-in Bluetooth
| | P22G | P21/P21P | P20/P20P/P20G | P23G/P23GW | P22P | P11/P11P | P10/P10P | FIP16Plus | FIP15G Plus | FIP15G | FIP14G | FIP13G | FIP11C/FIP11CP | FIP10/FIP10P | FIP12WP |
| --- | --- | --- | --- | --- | --- | --- | --- | --- | --- | --- | --- | --- | --- | --- | --- |
| | | | | | | | | | | | | | | | |
| LCD | black and white screen | backlight LCD screen | black and white backlit screen | color screen | black and white screen | 2.4"320*240px color display | 2.3"132*64px graphical LCD screen | 1.8 inch TFT color display | 4.3" IPS touch screen | 4.3 inch IPS color display | 3.5 inch IPS color display | 2.8 inch TN color display | 2.4 inch TN color display | FSTN display | FSTN display |
| Resoulution | 2.8-inch 384×160 px | 2.4-inch 320×240px | 2.3-inch 132*64px | 2.8-inch 320*240px | 3.8-inch 384*106px | 320*240px | 132*64px | 128*160 | 480*272 | 480*272 | 480*320 | 320*240 | 320*240 | 128*64 | 192*64 |
| LCD backlight | √ | √ | √ | √ | √ | √ | √ | √ | √ | √ | √ | √ | √ | √ | √ |
| Touch Panel | × | × | × | × | × | × | × | × | √ | √ | × | × | × | × | × |
| SIP Lines | 2 | 4 | 2 | 8 | 2 | 2 | 2 | 2 | 10 | 10 | 8 | 4 | 3 | 2 | 2 |
| PoE | √ | Only P21P | √ | √ | P22P | P11P only | √ | × | √ | √ | √ | √ | FIP11CP | FIP10P | √ |
| GigE | √ | × | P20G Only | √ | × | × | × | × | √ | √ | √ | √ | × | × | × |
| Wall Mount | √ | √ | √ | √ | √ | √ | √ | × | √ | √ | √ | √ | √ | √ | √ |
| Foot Stand | 45° | 45° | 45° | 45° | 45° | Stand with 2 adjustable angles | Stand with 2 adjustable angles | × | 45-degree-angle | 3 adjustable angles | 3 adjustable angles | 3 adjustable angles | 3 adjustable angles | 3 adjustable angles | 3 adjustable angles |
| USB 2.0 | √ | √ | √ | √ | √ | × | × | × | √ | √ | √ | √ | × | × | √ |
| Ethernet Port | 2*10/100/1000M | 2*10/100M | > 2*10/100M (P20/P) >2*10/100/1000M(P20G) | 2*10/100/1000M(adaptive) | 2*10/100M | 2*10/100M | 2*10/100M | × | √ | 2*10/100/1000M | 2*10/100/1000M | 2*10/100/1000M | 2*10/100M | 2*10/100M | 2*10/100M |
| Handset Port (RJ9) | √ | √ | √ | √ | √ | √ | √ | × | √ | √ | √ | √ | √ | √ | √ |
| Headset Port (RJ9) | √ | √ | √ | √ | √ | √ | √ | × | √ | √ | √ | √ | √ | √ | × |
| Earphone (3.5") | × | √ | × | × | × | x | × | √ | x | x | x | x | x | × | × |
| External AC Power Adapter(optional) | AC Input: 100~240V, 50~60Hz DC Output: 5V, 1A | AC Input: 100~240V, 50~60Hz DC Output: 5V, 1A | AC Input: 100~240V, 50~60Hz DC Output: 5V, 1A | AC Input: 100~240V, 50~60Hz DC Output: 5V, 1A;5V,2A (Only P23GW) | AC Input: 100~240V, 50~60Hz DC Output: 5V, 1A | Input: 100~240V, 50~60Hz Output: 5V/0.6A | Input: 100~240V, 50~60Hz Output: 5V/0.6A | Input: 100~240V Output: 5V/2A (USB Type, Optional) | Input: 100~240V Output: 5V/2A | Input: 100~240V Output: 5V/2A (Optional) | Input: 100~240V Output: 5V/1A (Optional) | Input: 100~240V Output: 5V/1A (Optional) | Input: 100~240V Output: 5V/1A (FIP11C: Standard FIP11CP: Optional) | Input: 100~240V Output: 5V/1A (FIP10: Standard FIP10P: Optional) | Input: 100~240V Output: 5V/1A (Optional) |
| Line Keys | × | 4 | 2 | 8 | × | x | x | 0 | 10 | 10 | 8 | 4 | 3 | 2 | 2 |
| DSS/BLF Keys | × | 4 | 2 | | × | x | x | 0 | 64 | 64 | 21 | 9 | 6 | 2 | 4 |
| 6-Way Conference | √ | √ | √ | √ | √ | √ | √ | √ | √ | √ | √ | √ | √ | √ | 3-Way Conference |
| HD Voice | √ | √ | √ | √ | √ | HD Speaker, HD Handset | HD Speaker, HD Handset | HD Speaker, HD Handset | HD Speaker, HD Handset | HD Speaker, HD Handset | HD Speaker, HD Handset | HD Speaker, HD Handset | HD Speaker, HD Handset | HD Handset | HD Handset |
| Wideband Codec | G.722, Opus, AMR-WB(Optional), G.711WB(Optional) | G.722, Opus, AMR-WB(Optional), G.711WB(Optional) | G.722, Opus, AMR-WB(Optional), G.711WB(Optional) | G.722, Opus, AMR-WB(Optional) | G.722, Opus, AMR-WB(Optional), G.711WB(Optional) | G.722, Opus, AMR-WB (Optional), G.711WB (Optional) | G.722, Opus, AMR-WB (Optional), G.711WB (Optional) | G.722, AMR-WB (Optional), G.711WB (Optional) | G.722, Opus, AMR-WB (Optional), G.711WB (Optional) | G.722, Opus, AMR-WB (Optional), G.711WB (Optional) | G.722, Opus, AMR-WB (Optional), G.711WB (Optional) | G.722, Opus, AMR-WB (Optional), G.711WB (Optional) | G.722, Opus, AMR-WB (Optional), G.711WB (Optional) | G.722, Opus, AMR-WB (Optional), G.711WB (Optional) | G.722, Opus, AMR-WB (Optional), G.711WB (Optional) |
| Narrowband Codec | G.711(A/U), iLBC, G.729A/B, G.723, G.726, AMR-NB(Optional) | G.711(A/U), iLBC, G.729A/B, G.723, G.726, AMR-NB(Optional) | G.711(A/U), iLBC, G.729A/B, G.723, G.726, AMR-NB(Optional) | G.711WB(Optional), G.711(A/u), iLBC, G.729A/B, G.723, G.726, AMR-NB(Optional) | G.711(A/u), iLBC, G.729A/B, G.723, G.726, AMR-NB(Optional) | G.711(A/u), iLBC, G.729A/B, G.723, G.726, AMR-NB (Optional) | G.711(A/u), iLBC, G.729A/B, G.723, G.726, AMR-NB (Optional) | G.711(A/u), iLBC, G.729A/B, G.723, G.726, AMR-NB (Optional) | G.711(A/u), iLBC, G.729A/B, G.723, G.726, AMR-NB (Optional) | G.711(A/u), iLBC, G.729A/B, G.723, G.726, AMR-NB (Optional) | G.711(A/u), iLBC, G.729A/B, G.723, G.726, AMR-NB (Optional) | G.711(A/u), iLBC, G.729A/B, G.723, G.726, AMR-NB (Optional) | G.711(A/u), iLBC, G.729A/B, G.723, G.726, AMR-NB (Optional) | G.711(A/u), iLBC, G.729A/B, G.723, G.726, AMR-NB (Optional) | G.711(A/u), iLBC, G.729A/B, G.723, G.726, AMR-NB (Optional) |
| Phonebook | 2000 | 2000 | 2000 | 2000 | 2000 | 2000 | 2000 | 2000 | 2000 | 2000 | 2000 | 2000 | 2000 | 2000 | 2000 |
| Operation System | Linux | Linux | Linux | Linux | Linux | Linux | Linux | Linux | Linux | Linux | Linux | Linux | Linux | Linux | Linux |
| Built-in WiFi | 2.4GHz Wi-Fi | 2.4GHz Wi-Fi | 2.4GHz | 2.4GHz & 5GHz Wi-Fi(P23GW) | 2.4GHz Wi-Fi | × | × | 2.4GHz, 5GHz | 2.4GHz&5GHz | 2.4GHz | 2.4GHz | 2.4GHz | 2.4GHz | 2.4GHz | 2.4GHz |
| Built-in Bluetooth | √ | √ | √ | × | × | × | × | × | √ | × | × | × | × | × | × |