Easy to Use IP Phone at Home, All You Need is Wi-Fi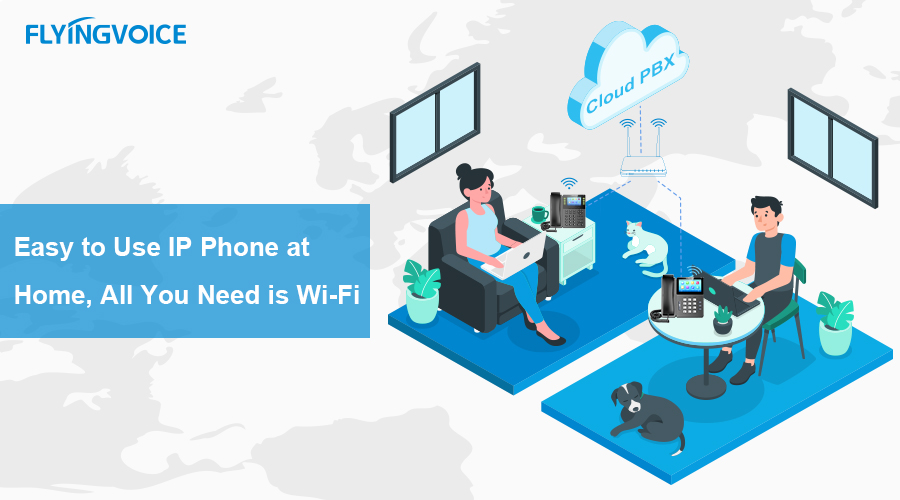 Many companies shift to a work-from-home model because of the COVID-19 nowadays. Business owners are seeking ways to make employees feel connected and engaged while they work remotely. A VoIP phone system is an effective way to help you work from home. However, not everyone has a wired Ethernet connection at home. So what should you do when you want to connect business VoIP phones remotely when there is no wiring?
As a leading supplier of VoIP phones, ATAs, gateways and routers for business and home, Flyingvoice launched the FIP1X series IP phones that specifically designed for the wireless office. These phones do not require an Ethernet connection to make and receive calls. You can just take the already configured Flyingvoice IP phone home, then power on it and connect it to the home wi-fi network. It will immediately be available to work if your company uses a cloud-based SIP service. And this makes efficient and productive remote working possible.
What You Can Benefit from Wireless IP Phones
● Cost saving: With existing Wi-Fi, you can just move the office IP phone home for SOHO without wiring installations and additional charges, saving money and energy.
● Flexibility: It will maintain full communication functions and your extension number, ensuring connections to clients and team members.
● Improved call quality: The voice of a caller is transmitted over the internet through servers to the called party which improves the call quality.
● Easy management: Worked with Flyingvoice Auto-Configuration System (FACS) to achieve pre-configuration and large scale deployments.
FIP1X Series IP phones for remote working come in a range of specifications:
Common Features of FIP1X Series IP Phones
Integrated 2.4GHz Wi-Fi - Start a VoIP call even in wireless network.
HD Voice - Wideband G.722 and Opus are supported.
EHS Headset - Free up your hands and increase productivity.
Ergonomics Design - Concave buttons and easy-grip handset increase comfort in using phones.
3-Angle Stand - The adjustable stand supports 30, 45 and 60 degree.
● FIP15G - High-end Touch Screen IP Phone with 10 SIP accounts and a 4.3" IPS screen. It features dual GE ports, a USB 2.0 port, PoE and up to 64 DSS keys.
● FIP14G - Advanced Enterprise IP Phone with 8 SIP accounts and a 3.5" IPS color screen. It features dual GE ports, USB 2.0 port PoE and up to 21 DSS keys.
● FIP13G - Advanced Business IP Phone with 4 SIP accounts and a 2.8" color screen. It features dual GE ports, USB 2.0 port PoE and 9 DSS keys.
● FIP11C/FIP11CP - Basic Business IP Phone with 3 SIP accounts and a 2.4" color screen. It features dual 10/100 Mbps ports, PoE(FIP11CP) and 6 DSS keys.
● FIP10/FIP10P - Entry-level IP Phone with 2 SIP accounts. It features dual 10/100 Mbps ports, PoE(FIP10P) and 2 DSS keys.